Professional Development
Training and professional development opportunities at MSU Billings!
Annual Enrollment and Wellness Fair 2023
Annual Enrollment for the next benefits year is April 25 – May 12, 2023.
The presentation will be recorded and posted on the Choices website: www.choices.mus.edu
Enrollment Instructions:
Go to www.choices.mus.edu
Click on MSU NetID Login (dark blue button).
Use your Net ID and password to login.
You may receive auto-generated reminder emails from "BusinesSolver". Please read these
and do not delete as spam.
REMINDERS:
The next benefit year starts July 1, 2023.
Flexible Spending Account - If you want Medical or Dependent Care Flexible Spending
Account (FSA), you will need to complete the full enrollment process.
If you have no changes, and do NOT wish to elect FSA, then your current selections will
roll over automatically and you do not need to do anything.
Join us for our first annual wellness fair!
We will have healthcare provider booths and various resources.
April 25th • 9 :00am- 1:00 pm University Campus-Glacier Room
April 26th • 10:00 am- 1:00 pm City College-Tech Commons
Chair massages are available for a $10 fee for 15 minutes
Call HR at 406-657-2278 to schedule a time.
Wellness Program
Recreational Activities
Outdoor Leadership-Preparing for the Summer Hiking Season
Mental Health
MSUB Wellness Champions
Holistic Nutrition
Deferred Compensation representatives schedule a 1-on-1 appointment at MSUB-Deferred Compensation
For TIAA consultations provided 25-27th please make an appointment at MSUB-TIAA.
Annual Enrollment Presentation will be shown each hour during the Wellness Fair.
Defensive Driving Course
Our automobile program requires that a minimum of 5% of MSUB staff take a defensive driving course. Our approach is to have staff that drive university vehicles take the course. However, all employees are welcome to enroll. The State offers a free 2-hour training class at the RMTD website. Taking this training also counts towards professional development. To track the completion of training on our campus, please save/print the electronic certificate and email it to jesse.horner2@msubillings.edu.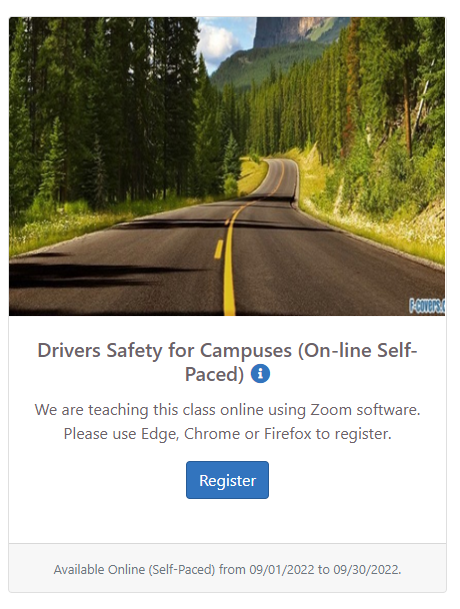 Resources from past Professional Development
---
Employee Engagement Events
B-I-N-G-O
April 26th 1:00-3:00- City College Commons
MSUB MILE - "We Walk Wednesdays"
Every Wednesday at 11:30 am - meet outside SUB (Petro Theatre entrance)
Ideas for Professional Development Opportunities
LinkedIn Learning - Learn in-demand skills with over 16,000+ online courses taught by real-world professionals.
Professional Organization Trainings/ Conferences
Webinars
Professional Articles- Read an article and share with your team
QPR Training-Question. Persuade. Refer.
Skills Based Training
Read a professional article and share at a staff meeting
MSUB Classes