Professional Development
Training and professional development opportunities at MSU Billings!
Defensive Driving Course
Our automobile program requires that a minimum of 5% of MSUB staff take a defensive driving course. Our approach is to have staff that drive university vehicles take the course. However, all employees are welcome to enroll. The State offers a free 2-hour training class at the RMTD website. Taking this training also counts towards professional development. To track the completion of training on our campus, please save/print the electronic certificate and email it to jesse.horner2@msubillings.edu.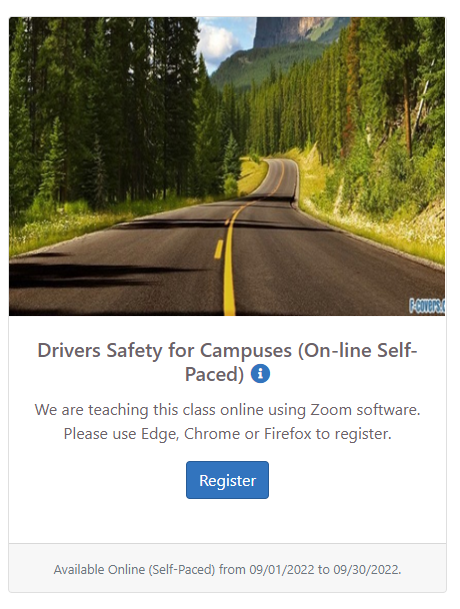 YOGA
YOGA – University Campus
Instructor: Sarah Brown
Thursdays, Noon-1pm in the YSHB Wellness Studio
Fee: $30 for approximately 13 one-hour long classes
Runs September 14 through December 14, 2023 (no class on Nov 23)
How to make a Payment:
Complete the payment form that is attached to the email. Go to the Cashier in the basement of McMullen Hall for payment. You may pay by debit/credit card, cash or check. If paying by check, make checks payable to "MSUB Wellness".
Once you have made the payment, complete the attached DocuSign form by clicking on the Acknowledgement Risk form link below and attach your receipt to it. Once this is complete you are registered to take the yoga class. You will receive an email a few days prior to the first class. (No Pilates for fall 2023, anticipated start date spring 2024)
Questions? Contact Julie Baker in Human Resources at 657-2118 or Julie.baker4@msubillings.edu
MSUB MILE - "We Walk Wednesdays"
Every Wednesday at 11:30 am - walk the MSUB Mile with colleagues: meet outside SUB (Petro Theatre entrance)
Ideas for Professional Development Opportunities
LinkedIn Learning - Learn in-demand skills with over 16,000+ online courses taught by real-world professionals.
Professional Organization Trainings/ Conferences
Webinars
Professional Articles- Read an article and share with your team
QPR Training-Question. Persuade. Refer.
Skills Based Training
Read a professional article and share at a staff meeting
MSUB Classes