Service Saturday
Changing communities

**UPDATE**
Unfortunately, due to the nature of in-person volunteerism and the increased spread of the novel coronavirus, we have been unable to host Service Saturday for fall 2020. However, we are continuing to monitor the situation and hope to offer service projects with community partners for spring 2021. For more information, please contact Peter Buchanan, civic engagement coordinator at peter.buchanan1@msubillings.edu or (406) 896-5817.
Mission statement
Service Saturday is the low-commitment, high impact service project initiative aimed at connecting students, staff and faculty with non-profit community partners within the wider Billings area. In collaboration with trusted community partners, we offer a range of impactful service projects that foster civic pride, stewardship and sustainability.
What is Service Saturday?
Service Saturday is a cause-based program that promotes engagement with the local community. It aims to achieve this through impactful service projects with trusted community partners. Each project is designed to address an issue or cause directly impacting the people, wildlife or environment within the Billings community.
In 2018/2019, we worked with 12 college sponsors, 16 community partners and approx. 200 MSUB volunteers. That's a total of approx. 500 volunteer service hours.

When does Service Saturday take place?
Service Saturday takes place one Saturday each month during the academic year. Service lasts for approx. 2 hours, 9:30am-12pm. However, volunteers are welcome to continue working at the project site after the initial time slot.
What are the dates for Service Saturday 2019/20?
Service Saturday 2019/20 runs from September 2019 through March 2020. Each project date has multiple college sponsors, community partners and project sites. We make every effort to match interest groups with appropriate issues and causes. See below for full calendar details.
Where does Service Saturday take place?
We ask volunteers to meet in the Student Union building Atrium, University Campus at 9:30am. After a light breakfast and introductions from each of our community partners, volunteers can decide which service project they would like to support. Volunteers will then be given directions to the project site, but are expected to arrange their own transport - carpooling is encouraged, but not required.
Who can participate in Service Saturday?
Everyone. So long as you have the ability to give back to the community, anyone is welcome at Service Saturday. Young people under 18 years old may attend, but must be accompanied by a parent or guardian on the project site.
Do I need to sign up before participating in Service Saturday?
Nope. Part of the Service Saturday model is to offer easy-to-access volunteer opportunities with low-commitment. We appreciate that college can be a busy time and understand your free time is at a premium. We only ask that you attend whenever you can and spread the word.
Can I use these hours to evidence service or volunteerism?
Absolutely. Service Saturday is a great opportunity to evidence your service or volunteer hours. We have a number of partnerships with college groups that continually volunteer their time for Service Saturday, whilst also meeting their service and volunteer requirements. The easiest way to evidence your hours is to log them using our online volunteer portal, Service Sting. -now with leader boards and prizes!
Why not put a team together? Then display your collective volunteer hours on our leaderboards!
Calendar 2019/20
September, 14th (Animal Welfare)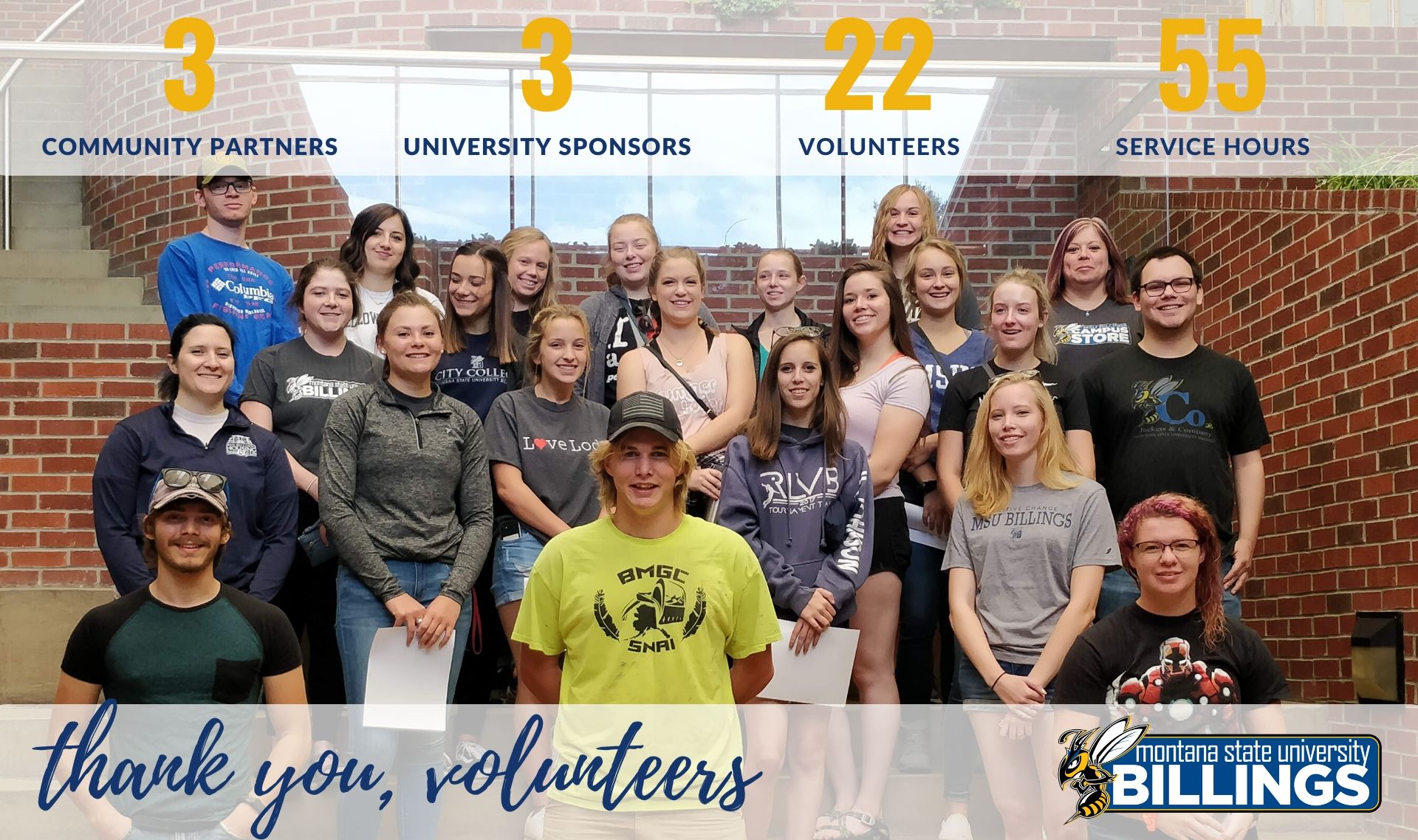 Sponsors: Campus Store, Housing, Residence Hall Association
Partners: Help for Homeless Pets, Yellowstone Valley Animal Shelter, ZooMontana
October, 19th (Environment)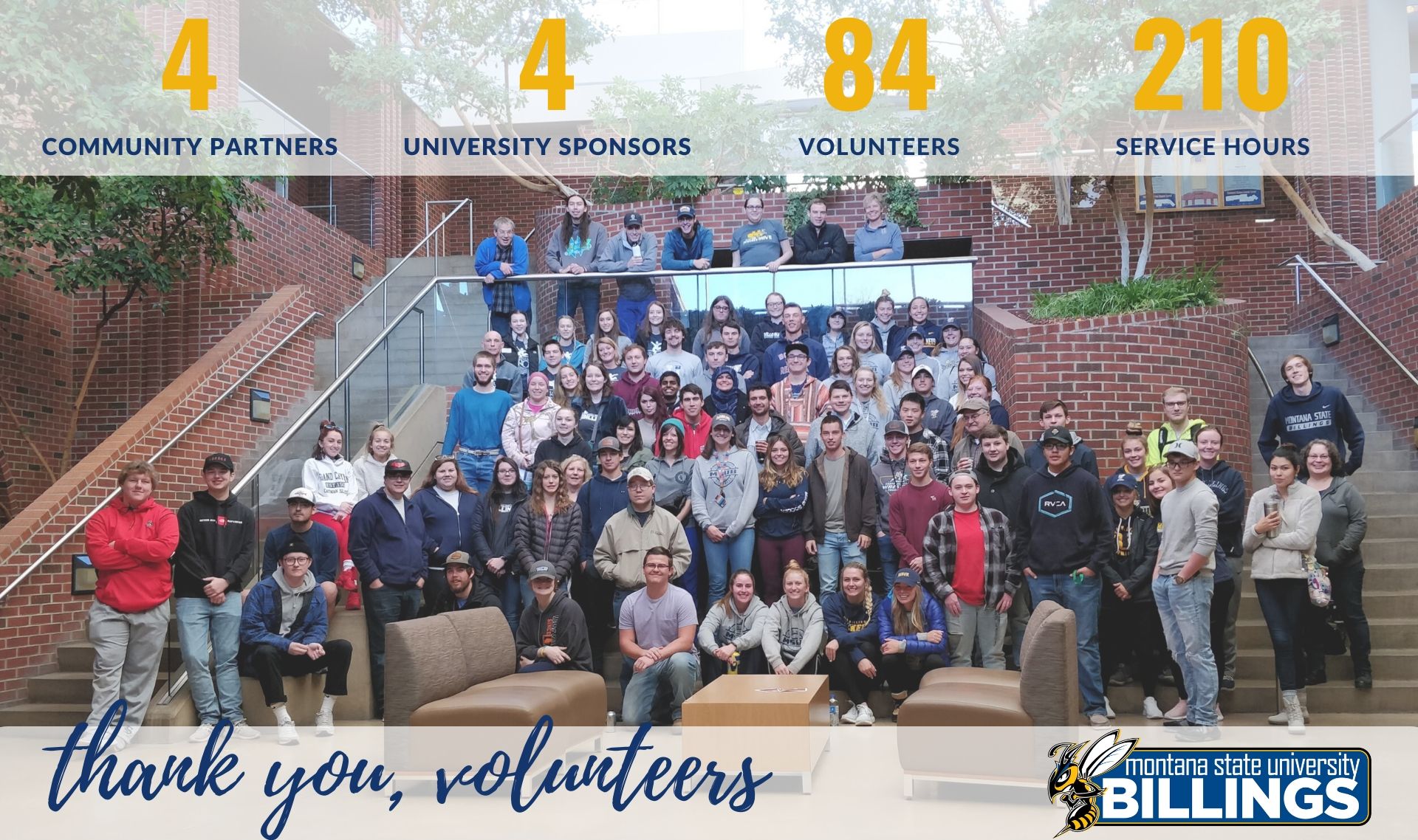 Sponsors: A&SC 111 First Year Seminar, MSUB Library, Sodexo Dining Services, University Honors Program
Partners: Moss Mansion, Montana Audubon Center, Parks & Recreation, ZooMontana
November, 16th (Education)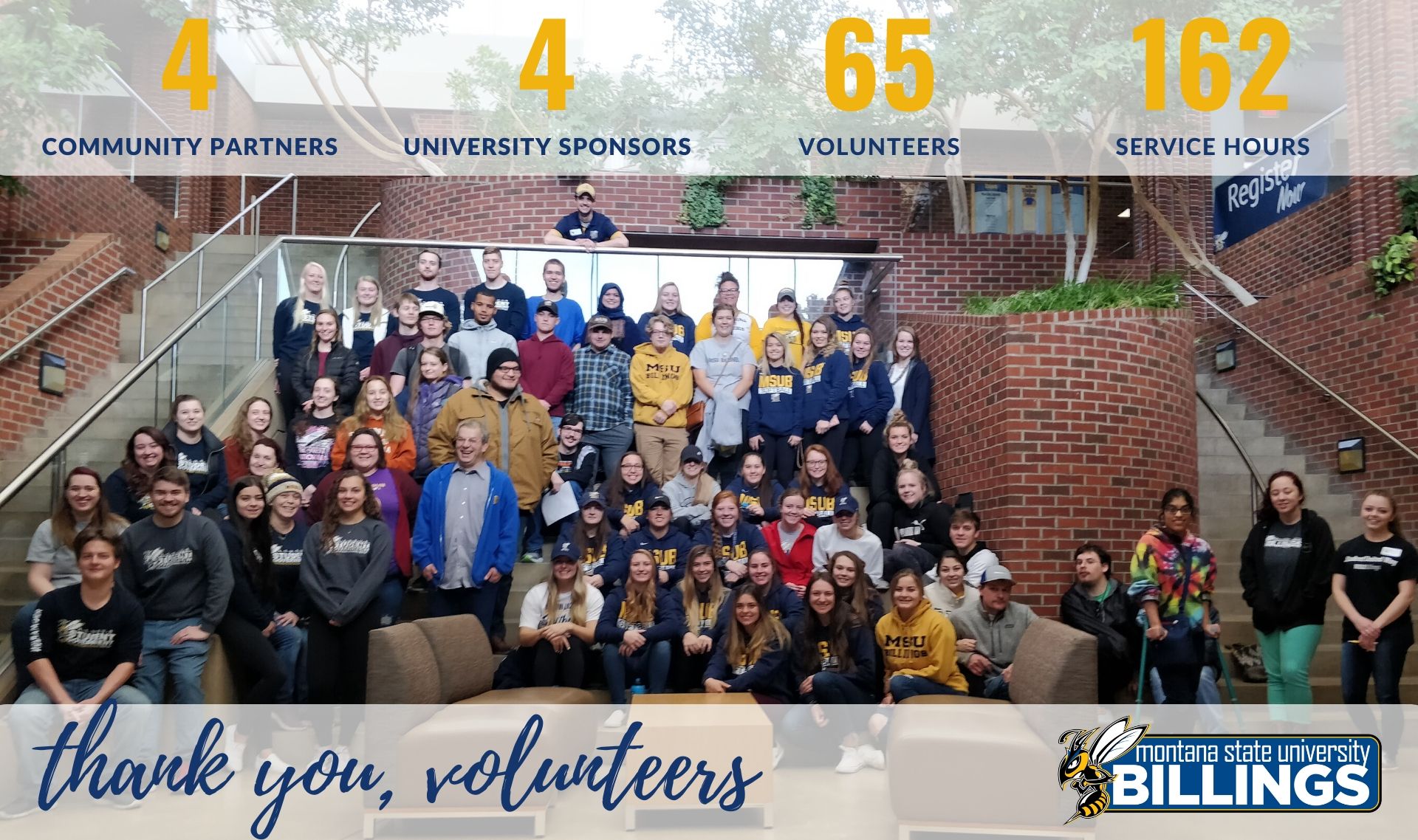 Sponsors: ASMSUB, TRIO/SSS, Student United Way, United Campus Ministries
Partners: Billings Public Library, Explorer's Academy, Moss Mansion, Wise Wonders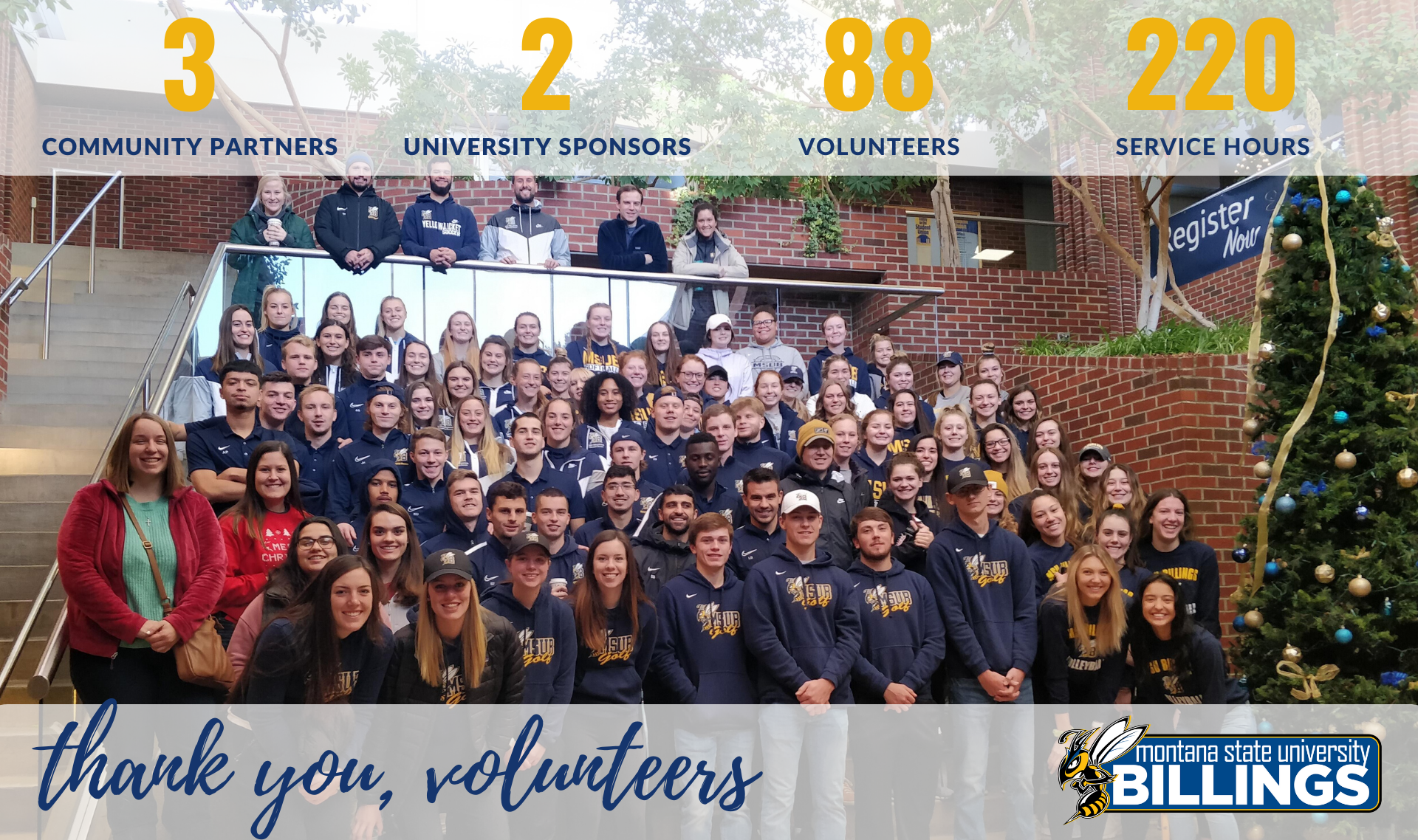 Sponsors: Athletics, Center for Engagement
Partners: Community Leadership & Development Inc., Festival of Trees, NOVA Center for Performing Arts
January, 25th (Mental Health)
Sponsors:Student Health Services, The Retort, Student United Way
Partners: The Hub, Tumbleweed, Yellowstone Boys & Girls Ranch

February, 15th (Vulnerable Groups)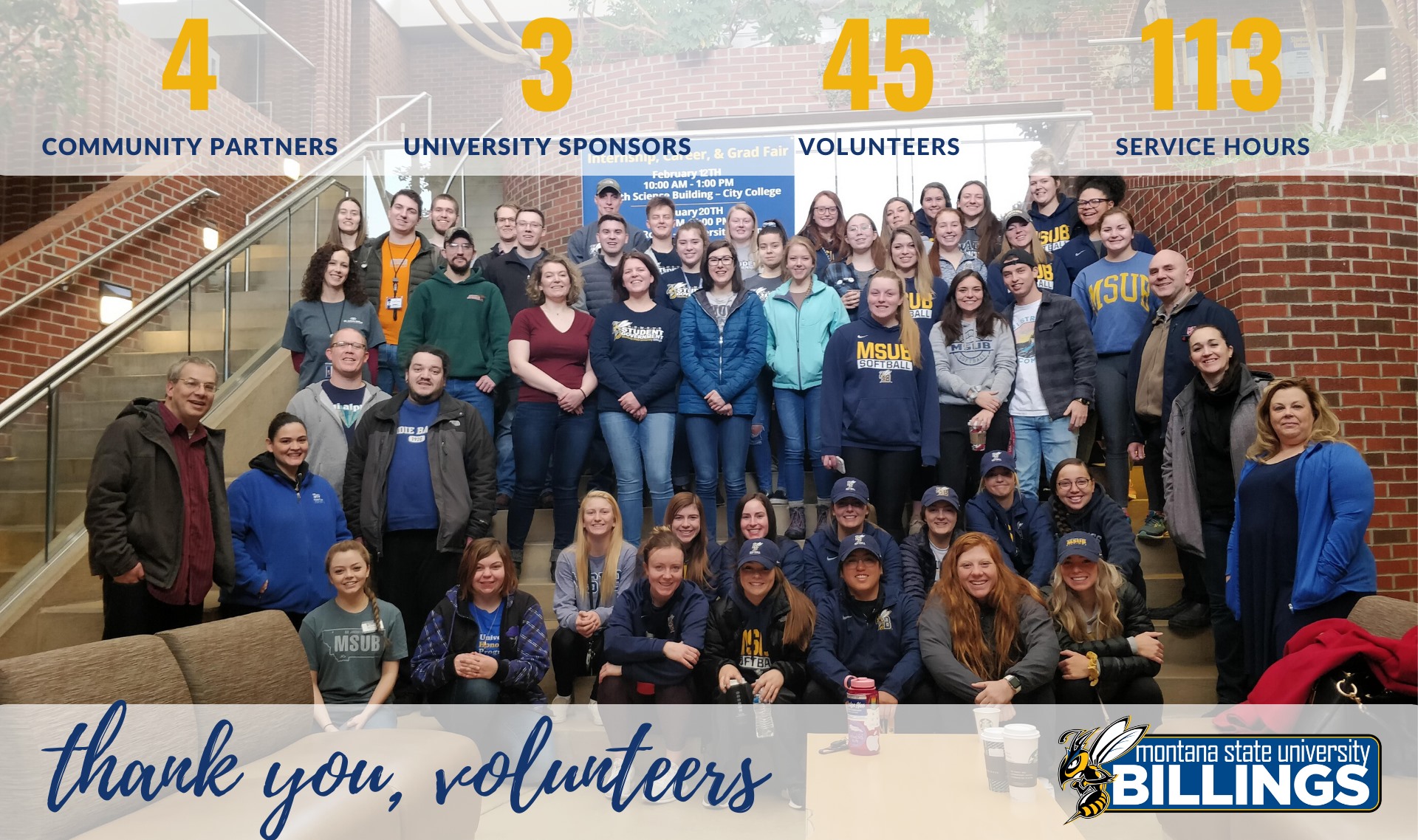 Sponsors:ASMSUB, Chi Alpha, United Campus Ministries
Partners: Salvation Army, St. John's United, Tumbleweed
Community partners and college sponsors
Are you a local non-profit, campus department or student group?
For those interested in becoming a community partner (local non-profit) or a college sponsor (MSUB department or student group) for Service Saturday, please complete the sign up form below. Once submitted, our Service Saturday Manager will be in contact to finalize your request.
Alternatively, contact the Civic Engagement Coordinator, Peter Buchanan, at the Center for Engagement at (406) 896-5817 or email peter.buchanan1@msubillings.edu for more information.