College of Liberal Arts & Social Sciences
Art Department
Student Art Organizations
We boast four vibrant student organizations under the collective that support our artistic community and give students experiences of a lifetime!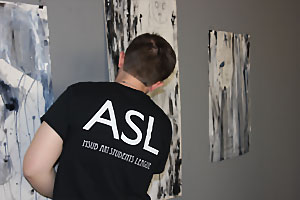 Art Students League and the Northcutt Steele Gallery Student Association work together to build a vibrant community of creatives and emerging student artists who make art, share art, and live art.
They assist with gallery functions, bring in visiting artists, take field trips abroad, and hold an annual art auction to raise funds for scholarships and events.
The ASMSUB 'Et Vasa Ordinem' (EVO), also known as Potters' Guild, is an active student organization that holds a pottery sale in the Spring semester to promote a professional standard in their work. Proceeds go to a scholarship fund, a guest ceramics artist or a lecturer. In addition, EVO members have attended conferences of the National Council on Education of Ceramic Arts, and workshops at the Red Lodge Clay Center and Archie Bray foundation.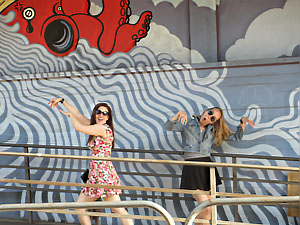 National Association of Education Arts.
The National Art Education Association Student Chapter (NAEASC) of MSUB was begun in 2017. The purpose of the NAEASC is to provide opportunities for pre-service art educators' enrichment through hands-on experiences. Members in this award-winning organization engage in such projects as volunteering to teach art in schools where there is little or no art making and assisting with professional art educator functions.