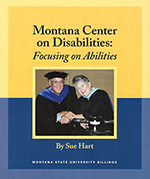 The Montana Center for Cerebral Palsy opened its doors on November 4, 1947 in the basement of McMullen Hall. Services included a part-time school, speech therapy, and physical therapy. Participating counties included Yellowstone, Big Horn, Carbon, Stillwater, and Treasure. The program was sponsored by the Montana State Board of Health, Eastern Montana College of Education, Montana Society for Crippled Children and Adults, and the Billings Kiwanis Club. In 1948 the services extended to Carter, Custer, Powder River, and Rosebud counties. A second special education teacher, an occupational therapist, and a part-time psychologist joined the staff. Eight (8) children were enrolled in the school and 43 children participated in the medical clinics.
The Center became the Montana Center for Cerebral Palsy and Handicapped Children in 1955. The area of service was extended to the entire state of Montana. Services were available for all children with disabilities. By 1958, 31 children were enrolled in the school. In a ten year period from 1948-1958, the number of clinics increased to 261 and 1,012 children were evaluated.
1967 was a very important year as restructuring by the Board of Regents formally made the Center a part of Eastern Montana College in July. Partial funding was through public service moneys; the remainder included self-generated revenue, gifts, contract, and grants.
The Center, now the Montana Center for Handicapped Children, moved into the new Special Education Building in November 1972, which coincided with the 25th anniversary celebration. Cleft palate, spina bifida, and medical clinics were held and a self-contained school was housed in the building. The ages of the students ranged from birth to 25 years old. Respite care was also added to the program.
The early 80's brought a focus change from a medical model to an educational model. The Center had five classrooms: four elementary and one secondary. Twenty four of the students were residents of Yellowstone County, nine were out of county residents, and one was an out of state resident. Governor Ted Schwinden notified The Center that it was selected as one of the four exemplary education programs servicing children with disabilities in Montana.
A major change occurred in 1986 when Billings School District 2 integrated the children attending the Center's school into their neighborhood schools. The Hearing Conservation Program serving 12 Montana counties and 9,000 children per year was added.
Department of Health and Environmental Sciences funded medical clinics that provided service to 250 clients per year. The Center held a 40th anniversary party and the Radio Reading service started reading on the air in 1988.