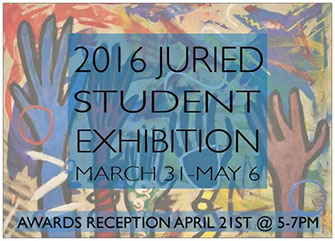 Artist Reception & Awards Ceremony
April 21, 5pm–7pm (Awards announced at 6pm)
Guest Juror: Catherine Louisa Eithier
MSUB Department of Art's 2016 Juried Student Exhibition opens on Thursday, March 31st and remains on view through May 6th. A catered artist reception and awards ceremony will be held on Thursday, April 21st from 5–7pm. This year's guest juror, Catherine Louisa Eithier, will announce cash awards for selected artworks at 6pm. Announcements of MSUB's Department of Art's annual scholarship winners will follow.

The reception and ceremony are catered and free and open to the public.

Submissions were received in response to an exhibition call extended earlier this year to all students currently enrolled at MSUB. The 37 artworks selected for exhibition testify to the rich talents and diverse visions of MSUB students working across a range of media. The exhibiting artists are: Meliah Bell, Katelynn Burg, Karin Calabrese, Neala Crasco, Charis Craven, Samantha Finch, Shayla Fiscus, Cassie Francisco, Ruby Hahn, Kyle Hedden, Zachary Hinkle, Carolina Lauver, Amanda Losness, Bonny Beth Luhman, Amy Mason, Fred Muller, Marshall Pentecost, Stephanie Slavin, Anastasia Swarthout, Levi Weeks, Beth Wertman, Patrick Williams, and Dylan Woods.

This year's juror, Catherine Louisa Eithier received her BFA from Montana State University with a minor in Art History. She has been the owner of the Catherine Louisa Gallery in Billings since 2011 and currently represents approximately 36 contemporary artists.

The Northcutt Steele Gallery is located on the first floor of the Liberal Arts on the Montana State University Billings campus. The gallery is open Monday – Friday from 8:00am – 4:00 pm, and by appointment. For more information please visit our Facebook page.

For media inquiries and more images contact Leanne Gilbertson, Director of Northcutt Steele Gallery, leanne.gilbertson@msubillings.edu; (406) 657-2903.
Image above: Robbie Mann, Hands Up, Acrylic on Canvas, 35 in. x 47 in. 2015.
(click on image to enlarge)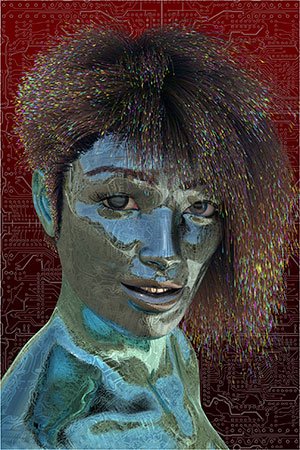 Patrick Williams, Logical Extreme, 2016. UV sublimation print on metal, 36" x 24".