Northcutt Steele Gallery
Montana State University Billings Department of Art Showcases the Work of its Faculty in the Faculty NOW Exhibition
September 6 through October 4, 2012
Artist Reception: Thursday, September 6, 5:00pm–7:00pm (Free and Open to the Public)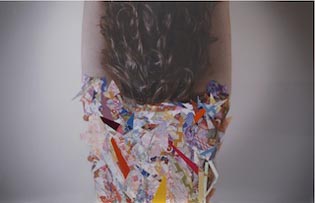 MSUB Department of Art's Faculty NOW Exhibition at the Northcutt Steele Gallery opens on September 6 and will be on view through October 4. This large group exhibition showcases the rich and diverse talents of the MSUB Department of Art faculty who work across a broad range of media. The exhibition also offers an opportunity for the public to view the work of newly hired faculty, Sarah Knobel (Photography and New Media) and Jodi Lightner (Painting and Drawing), and welcome them to the community.
Sarah Knobel joins the faculty from Washington DC, where she was most recently a Fellow at Hamiltonian Gallery pursuing a studio practice in photography, video, animation, and installation. She received her MFA from the University of Cincinnati's Design Architecture Art and Planning Program in 2004 and has since exhibited internationally while also working as an art professor. Knobel will exhibit photographs and video from her recent series, "Recover," which utilize traditional practices of self-portraiture and origami to explore the individual and collective search for purpose and authenticity among ubiquitous, pre-fabricated experiences. Knobel's punning title alludes to Western pop culture's obsession with self-help and the shared experience of feeling as if we live with a second, mediated skin in our image-saturated world.
Jodi Lightner completed her MFA in painting at Wichita State University where she subsequently taught. She has exhibited nationally and internationally, including juried and invitational shows, and has participated in a number of artist residencies in the USA and abroad. Lightner will exhibit several of her light-flooded mixed-media works that lead her viewers through explorations of subjective relationships to place. Offering a dislocated, liberated sense of spatial orientation, Lightner's works offer delicate, thoughtful meditations about how architecture and built structures provide foundations for personal experiences that are often distorted, magnified, layered, isolated or unhinged when filtered through embodied associations and memories.
The Faculty NOW Exhibition offers a venue in which to explore the dynamic exchange of influences and ideas that constitute the educational experience of learning about art and presents an inspiring dialogue—about creativity, process, production, and understanding—between teachers and learners in the collaborative journey of making and expressing. The work of MSUB Department of Art faculty in their classrooms, and in their lives as artists, is central to their contribution to the department, to the university, and to the broader community. The rich variety of artwork exhibited, which ranges widely across media, intentions, approaches, technical expertise and processes–illustrates the depth and breadth of achievement, insight, and ability that the faculty offers to students and to our community. A scintillating and enticing array of colors, textures, forms, patterns, and images are brought together in the exhibition and articulate a welcoming invitation to all to share in the vision of the MSUB Department of Art.
An artist reception will be held on Thursday September 6 beginning at 5pm. The reception and exhibition are free and open to the public.
IMAGE ABOVE: Sarah Knobel's "Cover 2," which is archival c print with acrylic & origami
SEE ALSO: additional images from exhibit