Check here frequently for D2L updates that have the greatest impact faculty and students. Additional D2L information, including tutorials, can be found on the respective Student and Faculty pages.
Fall 2017
Brightspace Assignment Grader Notification
October 26, 2017
A version detection notification is available for instructors using Brightspace Assignment Grader with Android or Apple devices. Previously, users were not notified when a new version of the Assignment Grader application became available. When a new version of the Assignment Grader application becomes available in Google Play or the Apple Store, users receive a notification. The update notification is compatible with Brightspace Learning Environment version 10.7 or later.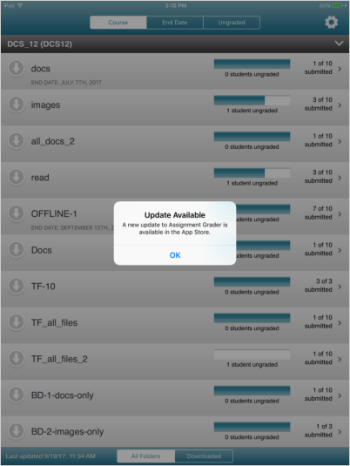 Figure: When the Brightspace Assignment Grader update available notification appears, users will be able to continue using the app and download the update at a later time.
---
More D2L Update Info
If you're interested in ALL of the ongoing D2L updates, peruse D2L's What's New? page on their site.