January 17-22, 2022
We would like to formally invite you to join Montana State University Billings in celebrating Power of One week. This year's theme is based on substance abuse prevention and education.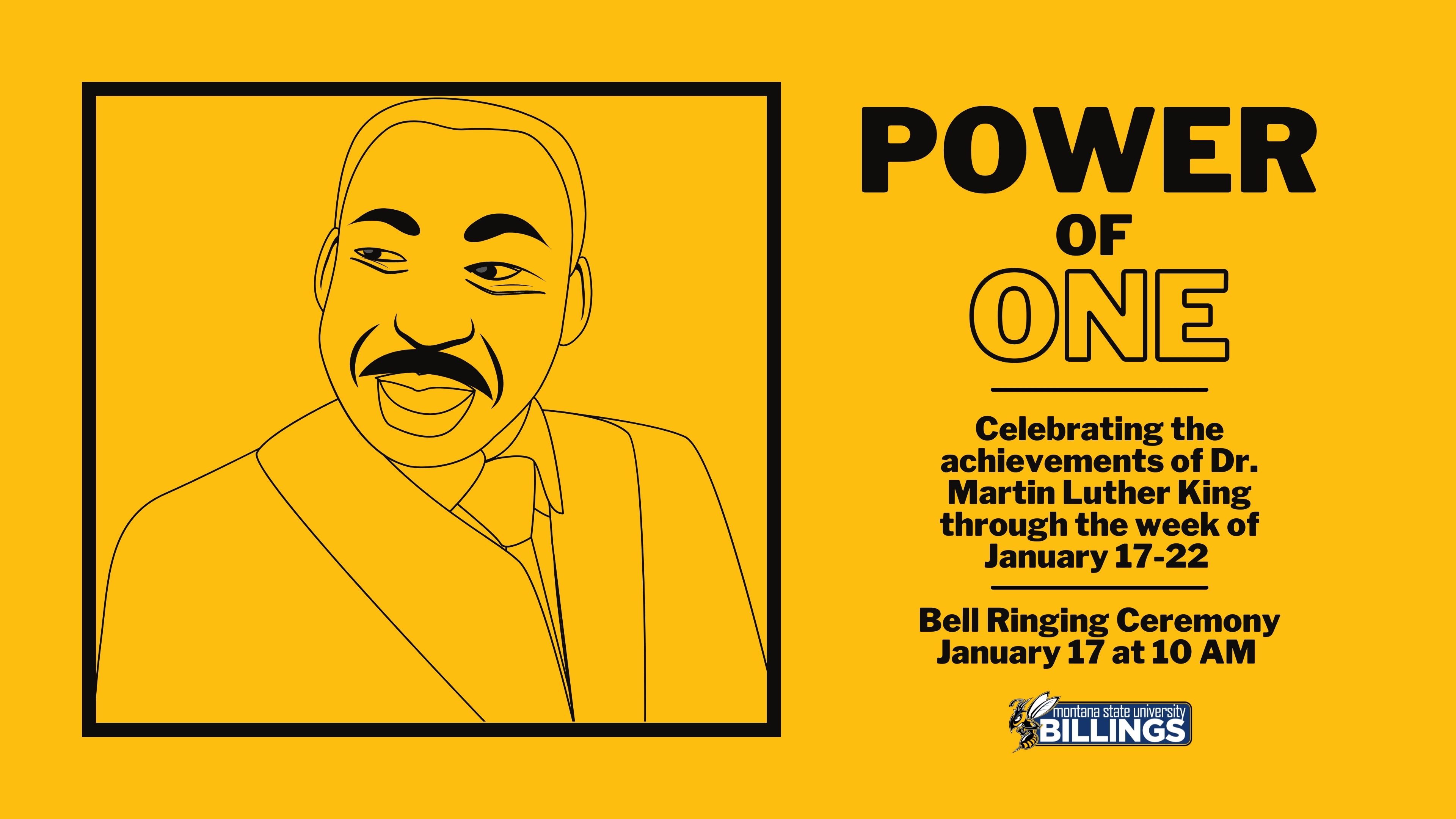 Monday Jan. 17th
Bell Ringing Ceremony
9:50am, Peaks to Plains Park
Montana State University Billings will commemorate Dr. King's Jr. life with a Bell Ringing Ceremony. The ringing of the bell symbolizes the quest for peace, along with justice, human rights, and social and economic progress for all people. The symbol of the bell also embraces America's historic Liberty Bell, the representation of independence. Montana State University Billings has been honoring Martin Luther King Jr. for over 20 years.
Tuesday Jan. 18th
Kahoot Trivia and Prizes
5:45pm, Rimrock Cafe
MSUB's Student Activities Board will be hosting their bimonthly event, Jackets, Java and Jams with a performance by Jackson McMurrey and free coffee drinks from Stingers. Come for a relaxing and fun evening with friends, meet new people, and come see the hearts on display to recognize those lost to suicide in Montana.
Wednesday Jan. 19th
Keynote: Rodney Poole
7:00pm Petro Theatre
Former collegiate athlete and psych major at Shaw University, Rodney uses his professional and personal experiences to help college students navigate the waters of substance use, social and academic pressures, health, and decision making.
Thursday Jan. 20th
Build Your Own Diersity-Trail Mix Bar
11am-1pm SUB Atrium
Come enjoy a lesson in diversity through the delicious assortment of trail mix ingredients.
Sip & Paint
5pm-7pm SUB Glacier Room
Enjoy a free sip and paint event with a focus on diversity and inclusion.
Friday Jan. 21st
Lunch & Learn with Dr. Mike Havens (MSUB Faculty)
12:00pm SUB Glacier Room
Join us for a delectable lunch and learn something new about "Drug Impacts on Human Behaviour," a presentation by one of MSUB's very own Dr. Mike Havens, from the Physchology Department.
Saturday Jan. 22nd
Service Saturday
9:30am SUB Atrium
MSUB has a standing commitment to the local Billings community. Join us as we endeavour on service projects throughout the city. Check in will be located in the Student Union Building Atrium with light refreshments provided.