January 20-25, 2020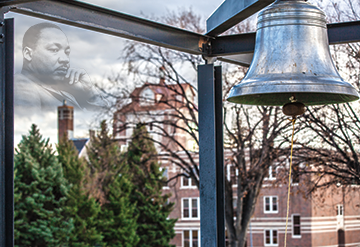 We would like to formally invite you to join Montana State University Billings in celebrating Power of One week. This year's theme is the power of voting, elections, and activism, in the spirit of Dr. Martin Luther King, Jr.
Monday Jan. 20th
Lawn Signs and Voting Boxes
Learn about your rights, and begin exercising them. Voter registration boxes will be available in the Student Union, Liberal Arts , College of Education, College of Business, and City College Tech Buildings all week. (Voter registration boxes powered by the non-partisan, non-profit Forward Montana!)
Bell Ringing Ceremony & Reception
9:00am, SUB Glacier Room
Main Contact: Center for Engagement
Montana State University Billings will commemorate Dr. King's Jr. life with a Bell Ringing Ceremony. The ringing of the bell symbolizes the quest for peace, along with justice, human rights, and social and economic progress for all people. The symbol of the bell also embraces America's historic Liberty Bell, the representation of independence. Montana State University Billings has been honoring Martin Luther King Jr. for over 20 years. The ceremony will start inside this year, so please meet in the SUB Glacier Room.
Tuesday Jan. 21st
Voting Jeopardy
7:00pm, Beartooth Room
Main Contact: Elizabeth Dobson
Test your knowledge and earn prizes in MSUB's twist on a classic gameshow. (Only current MSUB students are eligible to play and win prizes).
Wednesday Jan. 22nd
Keynote: Etan Thomas on "Voting & Activism"
7:00pm, Petro Theatre
Main Contact: Center for Engagement
Join former-NBA star, activist, and author Etan Thomas as he describes the power of grassroots advocacy. Learn how to make tangible change on the issues and ideas that matter you from a student leader who has made an impact.
Thursday Jan. 23rd
Lunch and Learn: Voting 101
12:00pm, Beartooth Room
Main Contact: Center for Engagement
Lean the basics of voting, contacting your legislators, and even running for office yourself. A variety of non-partisan information will be presented by an expert from MontPIRG over lunch. RSVP required for lunch.
Friday Jan. 24th
Open Forum: Your Voice Matters
6:30pm, Petro Theatre
Main Contact: Associated Students of MSUB (ASMSUB)
Share your opinions about the university, your college experience and what you think needs to change. Your student government, ASMSUB, is here to listen and act on your ideas, and will award $400 in prizes to student attendees at this open forum.
Saturday Jan. 25th
Service Saturday: Mental Health
9:30am, SUB Atrium
Main Contact: Center for Engagement