Mathematics Degrees and Programs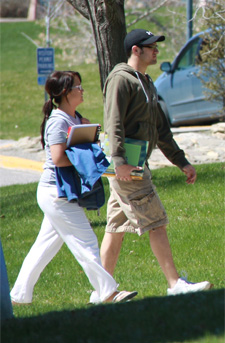 Mathematics Department offers a variety of degrees and programs in order to meet the needs of students from all backgrounds and interests. Each program is designed with enough flexibility that allows students to explore the depth as well as breadth of mathematical concepts and applications.
Due to flexibility within each program and the regular offering of courses in the department, a student can complete each major or minor by starting as late as their Sophomore year. However we suggest you to talk with your advisor or department chair, Dr. Mark Jacobson, as soon as you identify math, math education, statistics, or computer science as one of your interests.
Following are the currently offered majors and minors in the department.
(click on degree name to view details including the course requirements and plan of study)
SUGGESTED SCHEDULE FOR REQUIRED CORE COURSES
A student can complete a minor in statistics by starting as late as their junior year. However, due to possible course schedule changes and staff assignments, students are advised to start taking math and statistics courses as early as possible. Students should consult with their advisors to plan classes before registering each semester.
Listed below are the learning outcomes for Mathematics Department:
Demonstrate proficiency in geometry, algebra, calculus, mathematical analysis, probability and statistics, and discrete mathematics.
Read, comprehend, critique and construct rigorous mathematical arguments and proofs.
Effectively use technology such as (but not limited to) computer algebra systems, statistical software, and calculators to solve, analyze, or explore mathematics problems.
Demonstrate effective communication of mathematics through collaborative projects and presentations.